National Asian Wedding Show – Olympia London November 2018
I love this time of year! November, the season has changed, the clocks have gone back and you know its time to get planning for your Asian wedding. A time to get stuck into all that's fun about making your magical day come alive. You know its time to make that start; take the first step. What better way of doing it than attending this year's National Asian Wedding Show, which was held at the iconic Olympia London.
It was a busy day as couples had been queuing from even before the doors had opened! It was a lovely sight to see organisers of the show greeting couples at the entrance to the venue. A splash of personal touch added to this show's experience right from the get-go as brides and grooms-to-be were given stickers labelled 'bride' or 'groom' depending on their team for the day. A programme of the show was presented, outlining what was to be expected at the show and the all important catwalk times.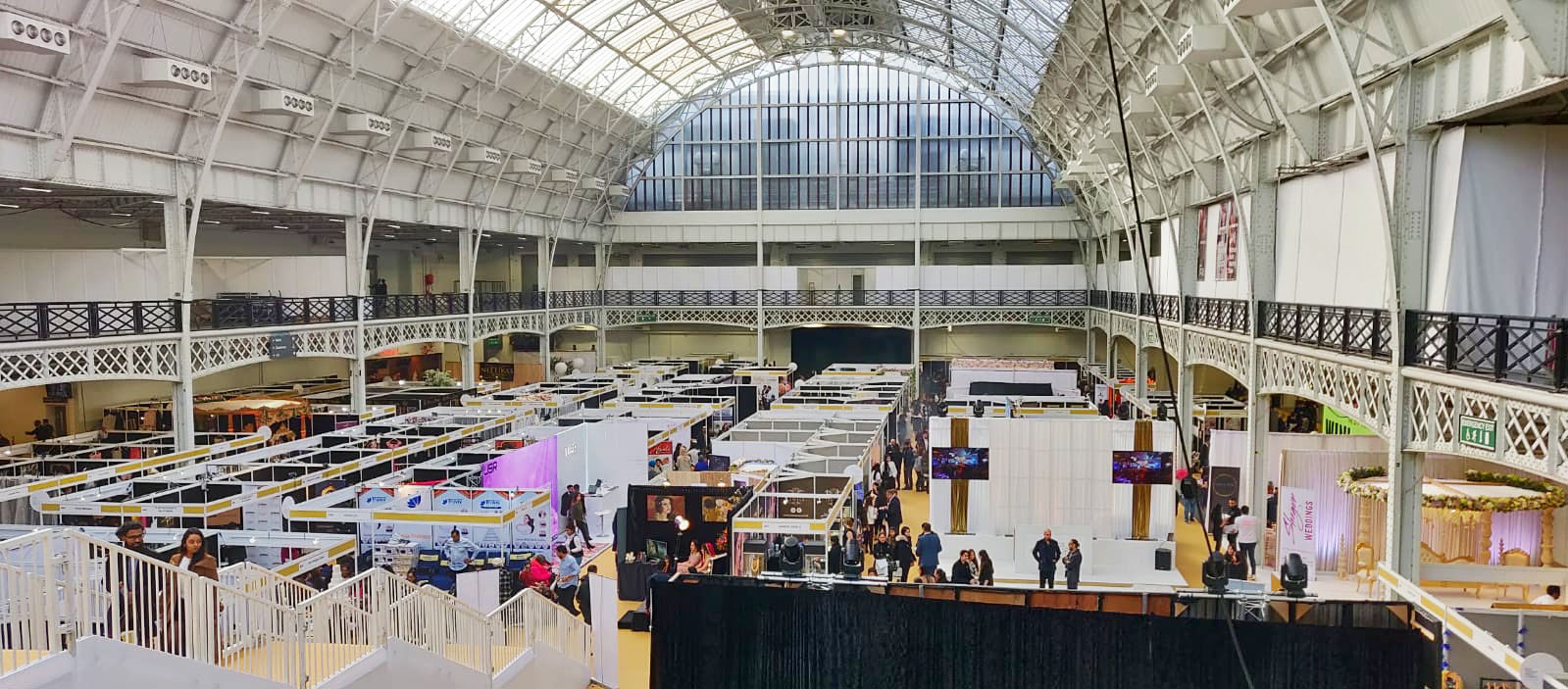 As anticipated, the Olympia was the place to be for this extravagant Asian wedding show. It provided the opportunity to meet the best and most popular Asian wedding suppliers in the UK. You had the chance to ask as many questions to suppliers about how they can be a part of your big day. These suppliers were experienced in their chosen field and willing to help where needed. I was able to put a few questions to them myself! The suppliers at the show really did know their business and were so approachable, especially when planning a wedding was on the agenda! There were plenty of choice for couples to find their ideal supplier with over 400 exhibitors, each within their own merited category. Talking to the suppliers at the show; it was good to know that almost all were willing to travel across the country, some even further, to meet their clients' needs and seemed open to discussing specific requirements couples may have. Each brand has their own unique selling points to cater to each individual's needs so it was important to speak to as many as possible in the same category to find the right one for you. Getting introduced to a wide selection of suppliers under one roof is an opportunity not to be missed. From booking your venue to choosing your dress, all essentials could be found to help at the National Asian Wedding Show.
We all know, close ones are what makes our wedding extra special and they too should be a part of the decision-making. That's why it was so lovely to see families attending the show with the couples, as it's such an important time for an engaged couple to get planning. It was a great, fun-filled day out, which left you truly inspired to take action in the next steps to plan your big day.
I applaud the organisers of this year's show for presenting such a unique and talented selection of suppliers. I had been looking forward to this show let me tell you this, ladies and gents, it did not disappoint!
1. It's electrifying atmosphere…
The show's atmosphere was alive and electric with the combination of great Asian wedding suppliers and the thousands of visitors who attended Olympia show.
2. The talent and diversity of suppliers far and wide…
The variety of suppliers from across the UK and abroad exhibited, which was great as you could talk with them face to face to get all your questions answered.
3. Visionary catwalks!
Show stopping catwalks including India Fashion Week, which certainly was not to be missed! The style and complete production of the catwalk was on point. The use of lighting and music really made this an experience for anyone to enjoy. To be able to sit back and watch collections from top designers in the UK as well as India, all under one roof was breath-taking. Each designer's collection left you wanting more.
4. Personal touch was a key highlight…
This was noted as soon as couples arrived at the show. You would be greeted by such a friendly and organised team who explained everything you needed to know and answer any questions. You would be given stickers to indicate who the bride and groom is and presented with goody bags. It was seen how small personal touches went a long way from brides meeting potential suppliers to book for their big day.
5. Inspire your day…
A great day out with your close ones. We all know the run up to the wedding is the best bit. The adrenaline of knowing that special day you have dreamt about is finally being created. What better place to get inspiration and create memories of a lifetime.
The show-stopping catwalk left the audience in awe of the variety of talented designers available both in the UK and India to design their dream dress. The catwalks focussed on the marriage between a more modern, western fashion styling with the trendy, traditional pieces embellished with beautiful adornments and jewels. Each designer's collections showcased a different aspect of this and together it became a unity of breath-taking, fashion-forward movement for both bridal and groomswear.
We should be proud that we can plan our Asian wedding in the UK and be taken to a show that can give every bride and groom-to-be a genuine spark of inspiration. I can't wait to keep you posted on their next show in February.